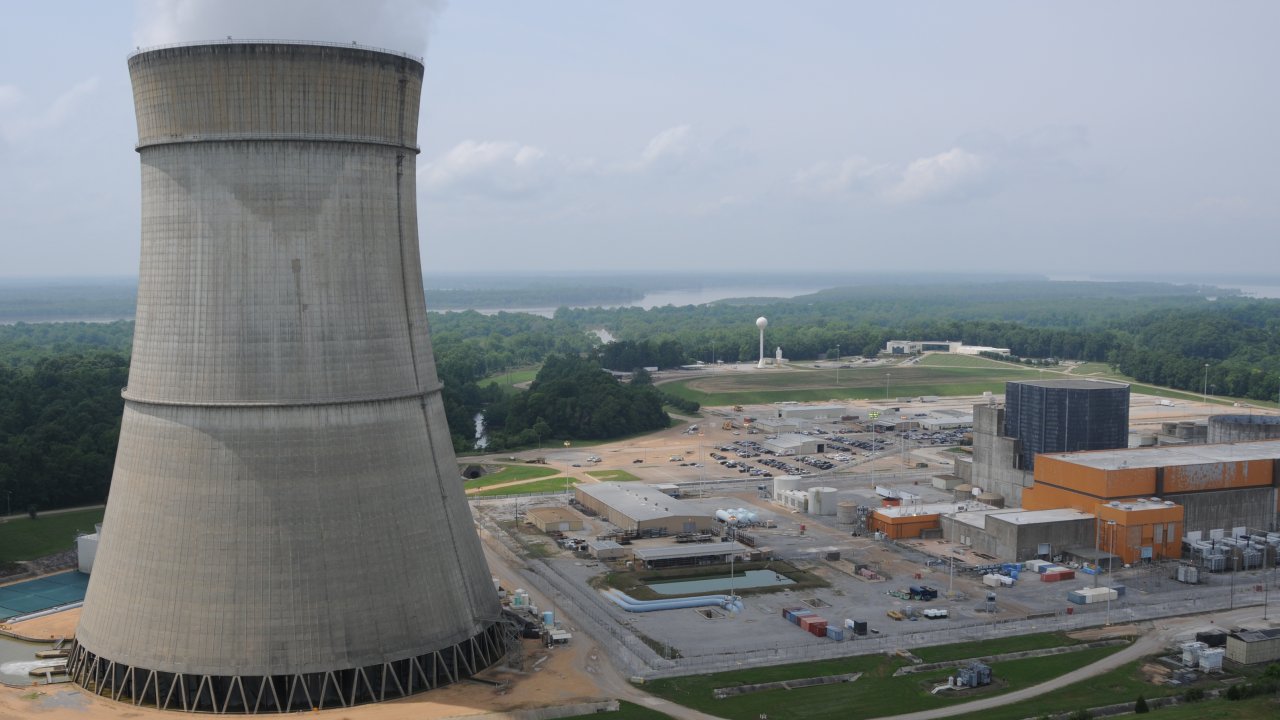 In July 1985, Grand Gulf Nuclear Station in Port Gibson, Miss., made history by becoming the first and only nuclear power plant to produce electricity in Mississippi. Grand Gulf marked another milestone by completing a power upgrade June 16, 2012, that makes it the largest single-unit nuclear power plant in the country and 11th largest in the world. Grand Gulf is owned and operated by System Energy Resources, Inc. (90%) and Cooperative Energy (10%).
The project was one of the largest expansions of a nuclear power plant in U.S. history and increased Grand Gulf's production by more than 13%, bringing total output to 1,443 megawatts. The action was part of Entergy's overall plan to close a growing gap between the amount of power the company produces and the amount that customers use. Today, Grand Gulf is the most affordable source of electricity in Mississippi.
One of Entergy's core values is a commitment to the community. Grand Gulf and its employees maintain a strong presence in the communities they serve by spending more than $9 million with local companies, and through charitable contributions and donations that promote community development, education and the environment.
Grand Gulf Nuclear Station
Location:
Port Gibson, Miss.
Owner:
System Energy Resources, Inc. (90%)
Cooperative Energy (10%)
Maximum Dependable Capacity:
1,433 MW megawatts electrical
Reactor Type:
Boiling Water Reactor
Reactor Manufacturer:
General Electric
Turbine Generator Manufacturer:
Kraftwerk Union
Architect/Engineer:
Bechtel Power
Commercial Operation Date:
July 1, 1985
License Expiration Date:
Nov. 1, 2044
Cooling Water Source:
Collector Wells
Number of Employees:
675
Counties included in Emergency Planning Zone:
Claiborne County, Miss., and Tensas Parish, La.
Environmental impact
Generating electricity with nuclear energy prevents the emission of pollutants like sulfur dioxide (SO2) and nitrogen oxides (NOx) and greenhouse gases like carbon dioxide (CO2) associated with burning fossil fuels.
According to 2019 data, environmental emissions avoided due to nuclear power plant operation in Mississippi included 5,203 short tons of sulfur dioxide, 6,558 short tons of nitrogen oxide and 6.6 million metric tons of CO2.*
Emissions of SO2 lead to the formation of acid rain. NOx is a key precursor of both ground-level ozone and smog. Greenhouse gases like CO2 contribute to global warming.
* Source: Emissions avoided by nuclear power are calculated using regional fossil fuel emissions rates from the U.S. Environmental Protection Agency and plant generation data from the U.S. Energy Information Administration.